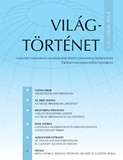 The fourth issue of World History (Világtörténet) for 2015, a thematic issue dedicated to the topic of the Russian Empire edited by Zoltán Sz. Bíró has been published. In the past decades there has been an increased interest in the imperial aspect of the Russian history among the Russian researchers, resulting valuable scholarly works on this topic. The editors of the journal World History decided to dedicate a thematic issue to this topic, too, partly to give insights into the themes, methods, and results of the Russian research, and partly to present the recent results of the Hungarian research connecting to the Russian Empire. Our studies focus on the political and economic relations of the imperial center and the border areas, on the organization system of the life of nations, peoples and legal status in the empire, and on certain forms of mediating imperial ideology.
Researching the Empire in Russia (Zoltán Sz. Bíró)
Studies
Gábor Gyóni: Russia as Empire: Territorial Expansion and Population of the Russian Empire
Zoltán Sz. Bíró: Being "Alien" in the Russian Empire: The Legal and Social Status of "Eastern" and "Western" Ethnic Groups
Ekaterina Pravilova: The Role of Internal Colonization in the Bureaucratic System of the Russian Empire
András Deák: Under the Sign of Inertia: Economic Modernization and Orientation Change in the Post-Soviet Space
Márta Font: Andreas the First and Yaroslav the Wise
Endre Sashalmi: The Coronation Medal as a Vehicle of Legitimation: Iconographic Analysis of the Coronation Medals of Four Empresses, Catherine I, Anne, Elisabeth and Catherine II
Workshop
Alexandr Stykalin: The 1956 Hungarian Revolution and the Soviet–Yugoslav Relations: Reflections on a New Documentary Book
Book Reviews
From the Human Body to the Clockwork: Metaphors of State, and State-building (György Képes)
Atatürk and the New Turkey in the Nazi Imagination (Péter Pál Kránitz)
The French-speaking European Countries and Hungary at the Beginnings of the Cold War (Gusztáv D. Kecskés)
The journal World History is published by the Institute of History of the Research Centre for the Humanities of the Hungarian Academy of Sciences. The four volumes of World History contain essays by Hungarian and foreign scholars on various topics pertaining to world history, as well as reviews on the secondary literature published in Hungary and abroad. The language of the journal is Hungarian, but each article includes an abstract in English.
Subscriptions can be made at any Hungarian post office, but issues of the journal (including older issues) can be bought or ordered from the Institute as well (postal address: MTA BTK Történettudományi Intézet, 1014 Budapest, Úri u. 53.; telephone: 36/1/224-6700/624; e-mail address: .