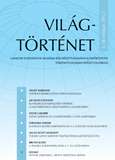 The first issue of World History (Világtörténet) for 2016, a thematic issue dedicated to Saint Martin of Tours) has been published. The present volume, edited by Marianne Sághy, contains multidisciplinary studies which reflect the new directions of the Martin-research on the occasion of the 1700th anniversary of the Saint's birth at Savaria (modern Szombathely in Hungary). Attention is mainly focused on the hagiographical work of Sulpicius Severus, its late antique socio-religious background, and the examination of the early expansion (fourth to tenth centuries) of the cult, for these aspects have received little scholarly treatment in Hungarian so far. The impresarios of Saint Martin's international cult were bishops, poets, kings, nuns, emperors and monks: each of them was attracted by a different element in the multifaceted personality of Martin, and the feature emphasised most varied from period to period, and from soldier to bishop, mystic to missionary. Saint Martin has remained the symbol of apostolic poverty and first monasticism for later Christian generations. It is hoped that these studies will not only contribute to a better understanding of the portrayal and cult of Saint Martin, but also give new momentum to Hungarian research of late antique hagiography.
Content
Studies
Marianne Sághy: The Birth of a Saint: Saint Martin of Tours 1700
Marianne Sághy: The Life of Saint Martin by Sulpicius Severus: Context, Models, Historiography
Jacques Fontaine: Antique and Christian Values in the Spirituality of Great Western Landowners in the Late Fourth Century
Sylvie Labarre: Saint Martin and Monasticism in the Prosaic and Lyric Versions of the Life of Saint Martin
Veronika Wieser: The Chronicle of Sulpicius Severus and the Eschatological Expectations of the Late Fourth Century
Allan Scott McKinley: The First Two Centuries of Saint Martin of Tours
Bruno Judic: Pilgrimages to Tours in the Seventh to Tenth Centuries
Book Reviews
Medieval Hungarians through Western Eyes (Veronika Novák)
Sources Related to Medieval Hungary in North-Italian Libraries and Archives (Krisztina Arany
The journal World History is published by the Institute of History of the Research Centre for the Humanities of the Hungarian Academy of Sciences. The four volumes of World History contain essays by Hungarian and foreign scholars on various topics pertaining to world history, as well as reviews on the secondary literature published in Hungary and abroad. The language of the journal is Hungarian, but each article includes an abstract in English.
Subscriptions can be made at any Hungarian post office, but issues of the journal (including older issues) can be bought or ordered from the Institute as well (postal address: MTA BTK Történettudományi Intézet, 1014 Budapest, Úri u. 53.; telephone: 36/1/224-6700/624; e-mail address: .