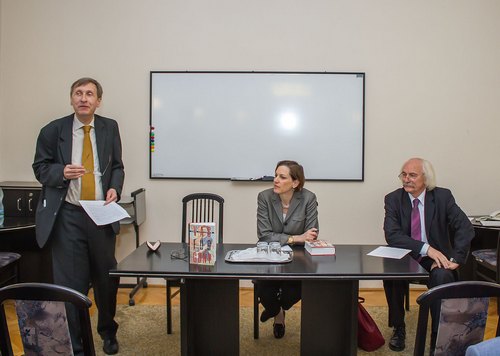 Anne Applebaum's most recent book, Iron Curtain: The Crushing of Eastern Europe, 1944-1956 (published in 2012) has been published in Hungarian, and for the premiere of the Hungarian edition she was invited to the Institute of History, RCH HAS, on April 25, 2014.
Anne Applebaum was introduced by the Deputy Director of the Institute, Attila Pók, who praised her works on the Communist regimes. Her previous book, Gulag: A History, was published in 2003 and won the Pulitzer Prize for non-fiction in 2004. The book narrates the history of the Soviet concentration camps system and describes daily life in the camps, making extensive use of recently opened Russian archives, as well as memoirs and interviews. Pál Fodor, the Director General of the RCH HAS also greeted the author and emphasized the importance of studying the common history of Eastern Europe, researching and analyzing the similarities and differences in international cooperation and common projects of institutes of different countries. The Institute of History RCH HAS in Hungary has dedicated its work to this international cooperation and has organized or took part in organizing international conferences, projects, and events with this aim (e.g. meeting of the International Committee of Historical Sciences about migration in 2012, the ENRS conference about collaboration in 2013 etc.).
Anne Applebaum talked about her work and her personal inspiration and experiences, too, that affected her research and writing this book. Iron Curtain describes the imposition of Soviet totalitarianism in Central Europe after the Second World War. At the end of the Second World War, the Soviet Union unexpectedly found itself in control of a huge swathe of territory in Eastern Europe. Stalin and his secret police set out to convert a dozen radically different countries to a completely new political and moral system: communism. Iron Curtain describes how the Communist regimes of Eastern Europe were created and what daily life was like once they were complete. The book describes how political parties, the church, the media, young people's organizations – the institutions of civil society on every level – were eviscerated, how the secret police services were organized, how ethnic cleansing was carried out – and how some people were forced to collaborate while others managed to resist.
After the lecture, a vivid discussion started about the topics of the book: the characteristics, origins, and consequences of collaboration, resistance, responsibility, and oppression in this region.