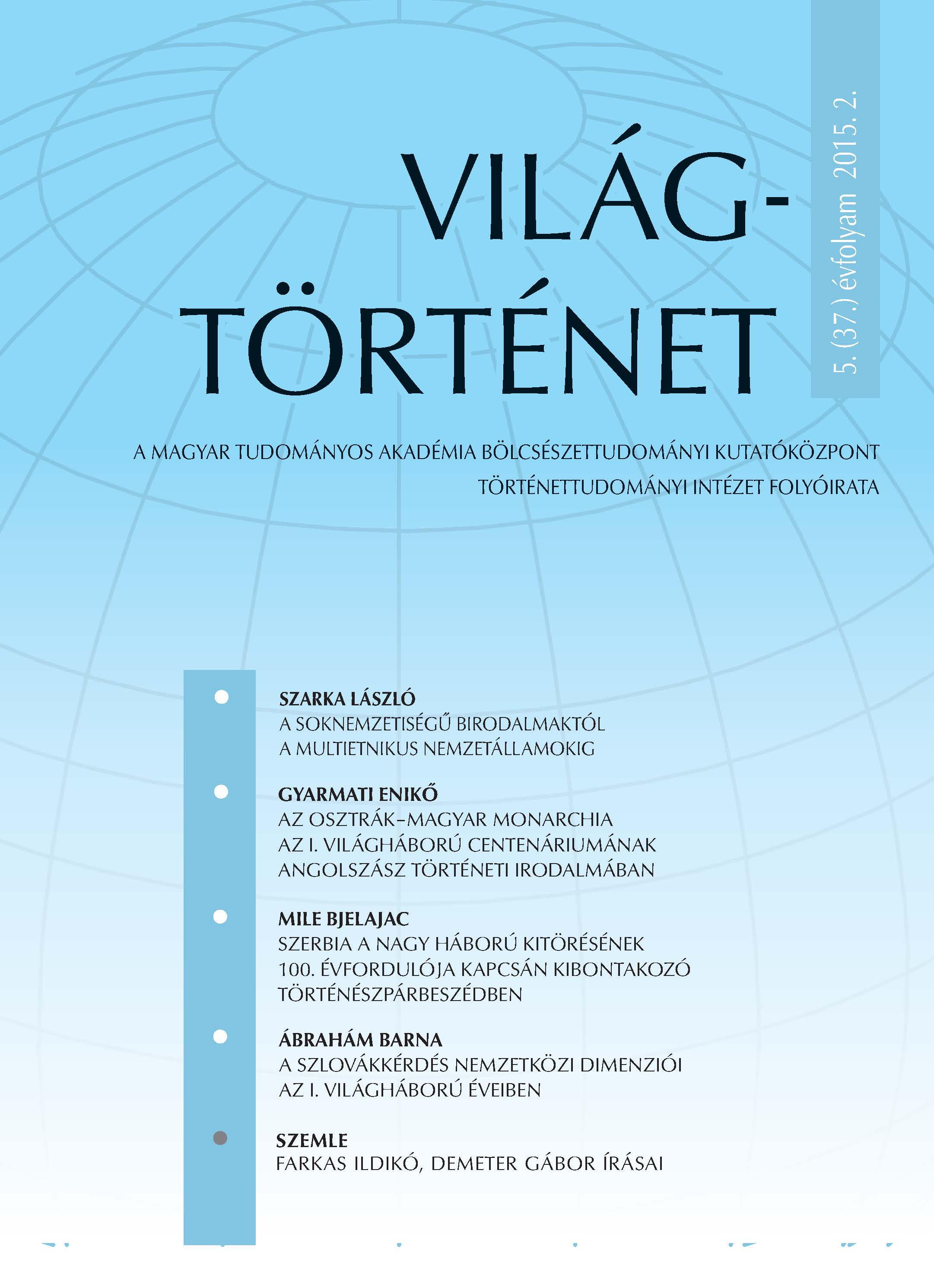 The second issue of World History (Világtörténet) for 2015 is a thematic issue dedicated to the topic of "The Great War" edited by László Szarka has been published. The centenary of the Great War gave birth to many comprehensive monographs, profound debates on explanations and both thematically and methodologically innovative approaches first of all with emphasis upon transnational aspects. As a result, in the international historiography of the Great War the complex evaluation of this over important event became an absolute imperative.
As the long-lasting consequence of the First World War, we may consider the complete restructuring of the European state system achieved by the peace settlements in Brest-Litovsk, in Versailles and in Sevres. The most controversial issue of the nation- and state-building efforts within the borders of the multi-national dynastic Empires leading up to these catastrophic events is represented almost only in the national historiographies. This edition is dedicated to the evaluation of the extraordinarily complex process of nationalism in Central-Eastern and South-Eastern Europe which on the one hand had been radicalised within the Empires, on the other hand had undoubtedly been promoted to the most important problem in terms of geopolitics and from the point of view of the Great Powers. In addition to the strong dynastic loyalties at the beginning of the war the war events, the brutal treatment by the civil and military authorities, the millions of refugees and the intense harassment of the nationalities gave way to national feelings and interests.

This volume of studies focuses on the debates and results in the international – English, German, Central and Eastern-, respectively South-Eastern European – historiography. Special attention is paid to the Serbian nationalism and the Balkan-question hotly debated by the Serbian and the international historiography. Family strategies against any war tribulations as well as the way how arts were used as means of critics concerning the circumstances of the war are also reflected here.
CONTENTS
The Great War's Interpretations in Regional Approach (Laszlo Szarka)
Studies
Laszlo Szarka: From Multi-national Empires to Multi-ethnic Nation States: State-Building
Nationalism in East-Central European Countries during the First World War
Enikő Gyarmati: Austria–Hungary in the First World War – in the Recent English Language Scholarly Literature
Mile Bjelajac: The Role of Serbia in the Current Historical Debates on the Origins of the First World War
Agnes Ozer: Nothing New in Serbia: The Assessment of the First World War and the Reception of the Newest Foreign Literature in Serbia
Barna Abraham: The International Dimension of the Slovak Question during the First World War
Laszlo Kurti: Identity and Propaganda in the Art of Miltiades Manno at the Time of the First World War
Gabriela Dudekova: Family and Survival Strategies during the First World War: Long-term Changes in the Slovak Society
Book Reviews
Kokugaku in Meiji-period Japan: The Emergence of the Modern Japanese National Consciousness (Ildiko Farkas)
The Image of Balkan Wars in the Recent French Literature (Gabor Demeter)
The Role of the Albanian Storm Centre in the Outbreak of the First World War (Gabor Demeter)
The journal World History is published by the Institute of History of the Research Centre for the Humanities of the Hungarian Academy of Sciences. The four volumes of World History contain essays by Hungarian and foreign scholars on various topics pertaining to world history, as well as reviews on the secondary literature published in Hungary and abroad. The language of the journal is Hungarian, but each article includes an abstract in English.
Subscriptions can be made at any Hungarian post office, but issues of the journal (including older issues) can be bought or ordered from the Institute as well (postal address: MTA BTK Történettudományi Intézet, 1014 Budapest, Úri u. 53.; telephone: 36/1/224-6700/624; e-mail address: .)