Details

Category:

Events

Hits: 3737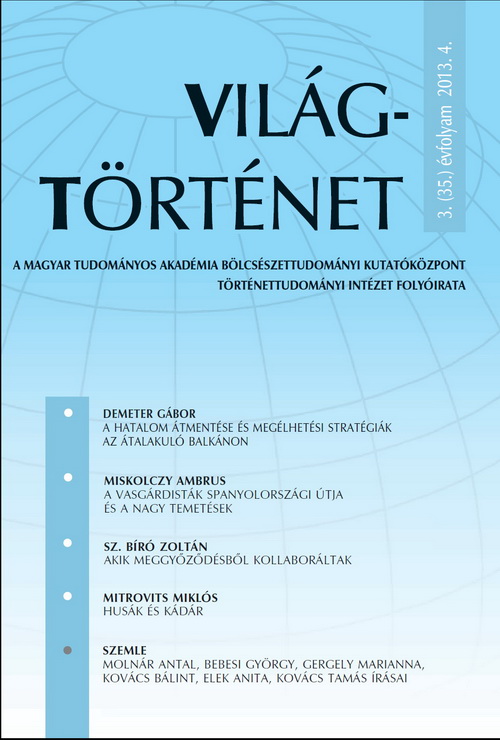 The forth issue of World History (Világtörténet) for 2013 has been published! The contents of the issue can be read here.
The journal World History is published by the Institute of History of the Research Centre for the Humanities of the Hungarian Academy of Sciences. The four volumes of World History contain essays by Hungarian and foreign scholars on various topics pertaining to world history, as well as reviews on the secondary literature published in Hungary and abroad. The language of the journal is Hungarian, but each article includes an abstract in English.
Subscriptions can be made at any Hungarian post office, but issues of the journal (including older issues) can be bought or ordered from the Institute as well (postal address: MTA BTK Történettudományi Intézet, 1014 Budapest, Úri u. 53.; telephone: 36/1/224-6700/624; e-mail address: .)
Details

Category:

Events

Hits: 4543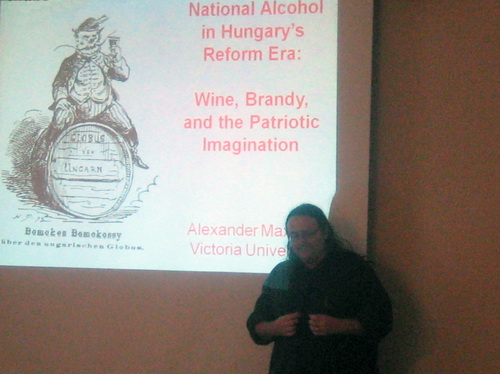 Dr Alexander Maxwell (Victoria University of Wellington, New Zealand) discussed the development of alcoholic culture in Hungary between 1825 and 1848. The paper represented part of a larger research project inspired by the stories of the traveller John Paget. The author studies behavioral forms of Nationalism in lifestyle, drinking habits, clothing, sexuality, facial hair, etc.
Details

Category:

Events

Hits: 3874
The research fellows of the History Institute, RCH HAS have participated several international conferences of Balkan studies in 2013.
On October 25–26, 2013, the annual conference of AIESEE (Association Internationale d'Etudes du Sud-Est Européen) was organized in cooperation with the Ivo Pilar Institute of Social Sciences in Zagreb. Three research fellows of the History Institute had lectures at the conference: Dénes Sokcsevits (The Images of the Hungarians and Croatians in the early 20th century), Árpád Hornyák (The Image of Hungary and the Hungarians in the Yugoslav Foreign Policy 1918–1945) and Gábor Demeter (Do ancient stereotypes prevail and what political ideas do they serve? The image of Balkan peoples through the eyes of Hungarian politicians /Lajos Thallóczy and István Burián/ and travellers of the 19th century).
Details

Category:

Events

Hits: 3844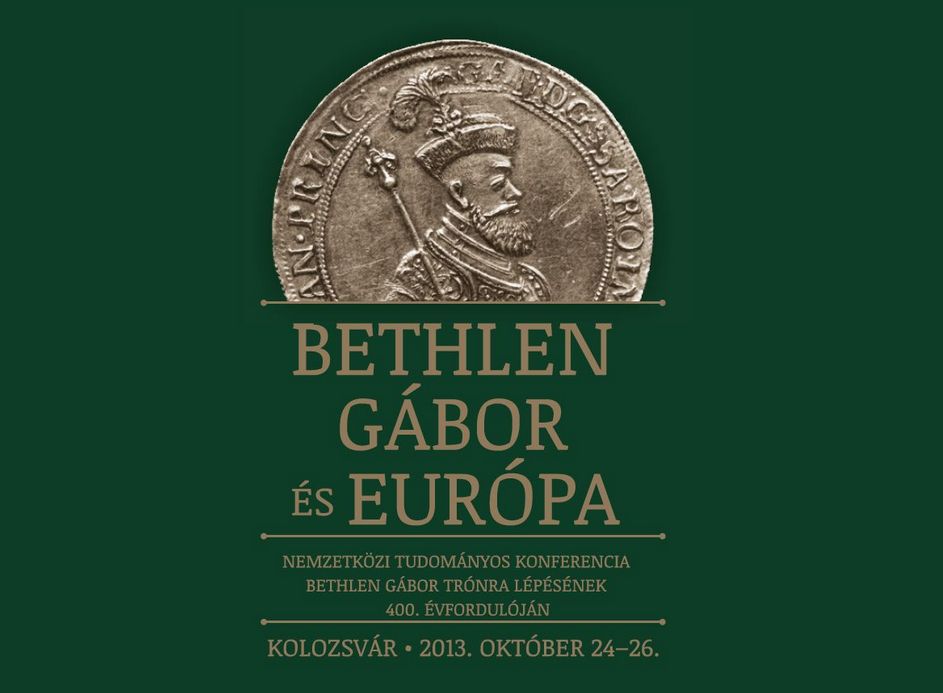 An international conference was held in Kolozsvár (Cluj-Napoca, Romania) about Bethlen and Europe on October 24–26, 2013, organized in cooperation of several institutes: the Hungarian-language Babes-Bolyai University of Kolozsvár, the Transylvanian Museum Society, the Eötvös Loránd University of Budapest, the Debrecen University and the Institute of History, Research Centre for Humanities of the Hungarian Academy of Sciences. The conference took place in the Hungarian History Institute of the Babes-Bolyai University. The program can be read here and in Romanian here.
Details

Category:

Events

Hits: 3914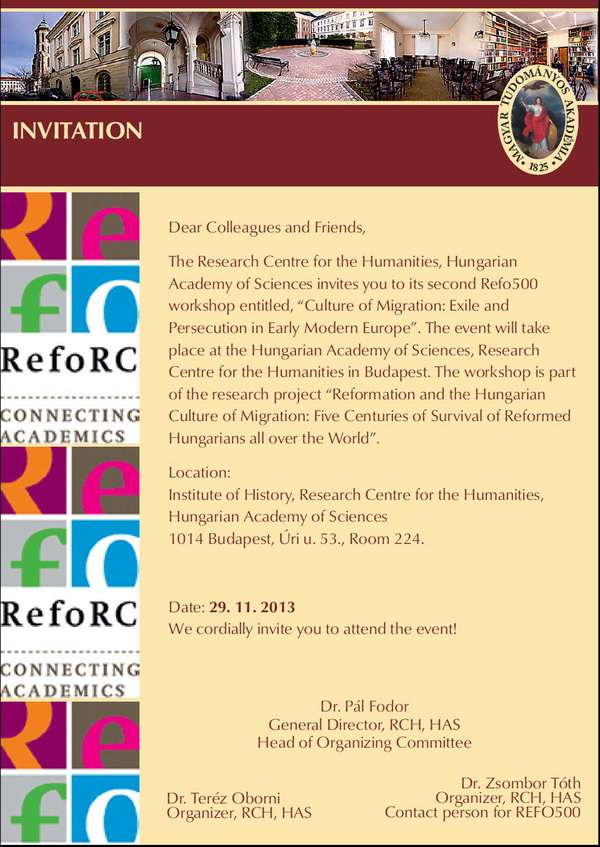 The Research Centre for the Humanities, Hungarian Academy of Sciences will hold its second Refo500 workshop on November 29, 2013, entitled Culture of Migration: Exile and Persecution in Early Modern Europe. (About the first event read more here: http://www.tti.hu/en/events-top/646-beszamolo-a-refo500-kereteben-megrendezett-nemzetkozi-konferenciarol.html)
The event will take place at the Hungarian Academy of Sciences, Research Centre for the Humanities, Institute of History in Budapest (1014 Budapest, Úri u. 53., Room 224.) The workshop is part of the research project Reformation and the Hungarian Culture of Migration: Five Centuries of Survival of Reformed Hungarians all over the World.